美国 Tree Frog 树蛙 品牌 车载防滑垫 置物架
产品编号: 38308
美国最受欢迎的无粘合剂式防滑垫 超强固定 手机、导航、钥匙 安全驾驶必备 最省心的防滑垫
"Unbelievable grip"
"Does what it says"
"Simples!"
Also available:
Most useful customer reviews
Roger
devon
Olixar tree frog Ultra-grip dash board pad
6 七月 2017
Unbelievable grip
WOW! Sticky or wot!.... Unbelievable. Eveything can stick to this pad. My leather phone case, parking badge even your fingers seem to stick to this. You think your hands are going to be sticky but they are not. You think it will leave sticky stuff on your phone etc. it does not. When you peel it off the dash it streatches like spiderman. Incredible stuff Highly recomended and such a good price too. Oh and ps. Dust your dash first as it wil stick to the dust which prevents it sticking to the car. however you can wash it so no problem.
Paul Hollingworth
Southampton
Samsung Galaxy S4 Mini
19 五月 2017
Does what it says
This actually does what they say. You can stick almost anything to it at very steep angles and it stays put. I know I have tried it and use it on my car dash every day.
Alec Hayter
Southampton
Olixar Tree Frog Dashboard pad
2 五月 2017
Simples!
All the best ideas are simple ones, and this product delivers on its promises. So much better than suction fixings that leave tell-tale marks on you windscreen (for the benefit of would be thieves!), and other heavy devices which are an absolute pain to carry in your car. This product is designed to last, and will do so. (what could possibly go wrong?). The description confirms that the "sticky" can be refreshed, and I would assume that this can be done many times before finally losing its grip altogether. When/if that happens, it won't cost much to replace the item with a new one via Mobile Fun. So I've managed to purchase what apears to be a product completely suited to my needs, and supplied efficiently by a reliable supplier, on time. Mind you, the name makes me wonder a little - I've never seen a frog like it!
363 Reviews
|
发表评论
---
为什么购买?
固定手机等常用设备
无粘合剂设计 不留痕迹
柔软质地 完美贴合仪表盘
难度系数高的角度也可固定
可清洗设计 依旧保持良好使用
---
详细信息
安全固定手机等常用设备于汽车仪表盘
由特质硅树脂材料制造,可以牢固稳定手机、钥匙、导航、太阳眼镜等设备在汽车仪表盘上。可以随意调整防滑垫在仪表盘上的摆放位置。


完美贴合仪表盘
柔软胶状的防滑垫,可以贴合各种仪表盘的曲线表面。可以固定较大设备, 比如Galaxy Note 3平板,甚至可以在较大的斜角表面也可以固定平板。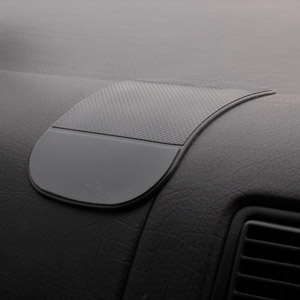 无粘合剂设计 不留痕迹
硅树脂材料,无粘合剂,不用担心仪表盘上留痕,更不会在设备上留残胶。

可清洗设计
使用长久后,防滑垫难免积累尘埃污渍,因此而影响贴附性能。只需清洗防滑垫表面污渍,晾干后依旧使用如新。