Brodit Active Holder with Tilt Swivel for Samsung Galaxy S5
产品部件号: 512623
产品编号: 45119
Charge and use your Samsung Galaxy S5 in your vehicle with this Brodit active holder with tilt swivel.
"Perfect companion for mobile"
"Great quality as usual"
"Bang on"
Most useful customer reviews
Mark Crawford
London
Samsung Galaxy S5
10 十一月 2014
Perfect companion for mobile
I've purchased this product for every mobile I've had and it never dissappoints. It holds mobile perfectly with its slide in action in either position you prefer; landscape, portrait or diagonal. Also keeps the mobile battery topped up when I'm using satnav or playing music. All buttons are accessible once mounted in the cradle so its easy to use for handfree calling. The perfect marriage.
Steve Aldridge
United Kingdom
Samsung Galaxy 5
12 八月 2014
Great quality as usual
I always buy this make each time I change the phone as the quality of the build is great and it does the job brilliantly. I have just brought a motor home and will be buying another one to go in to that as well. Can not recommend enough. Delivery is very quick and never had a problem with mobile fun, in fact the only place I shop for bits for the phone.
30 七月 2014
Bang on
Great product again, always get one with each new phone, so much easier, highly recommended
7 Reviews
|
发表评论
---
详细信息
Brodit active holders are a great choice for mobile phone users who frequently use their phone in the car. With your mobile in the active holder, it is safe, convenient and within easy reach. Attached to your dashboard, inserting and removing your handset is simple, as the holder is tailored to suit your handset model.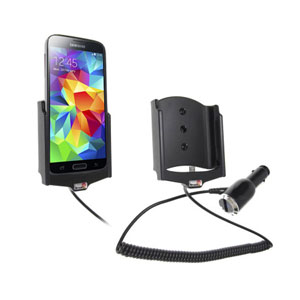 The attached tilt swivel unit means the active holder can be adjusted for avoiding light reflection on the screen making it easier and safer to view whilst driving. Your mobile phone connects to the charging circuit and charges your phone everytime you put it in the holder.
Please see the installation guide on details of how to fit the holder