Brodit Passive Samsung Galaxy S5 In Car Holder with Tilt Swivel
产品部件号: 511623
产品编号: 45121
Use your Samsung Galaxy S5 safely in your vehicle with this small, neat and discreet Brodit Passive holder.
""
"Brodit - the only mounts to use."
"Brilliant Holder"
Most useful customer reviews
Allen LANCELEY
Otford
Samsung
10 十一月 2015
Brodit is welL made and supplied at a great price.it arrives quickly after notification. However, there can be a long gap between purchase and despatch when you are left in limbo as to what is happening.
Tim Brading
Devon
Samsung Galaxy S5
10 十一月 2014
Brodit - the only mounts to use.
Whenever I get a new phone, or change my car, I always buy a matching Brodit holder. I have tried many other holders, but none are as solid as the Brodits. I also like the fact that they can be removed without leaving a trace. Not the cheapest, but you get what you pay for.
Karl Hobson
Wakefield
Samsung Galaxy S5
31 五月 2014
Brilliant Holder
Broadit holders in my opinion are simply the best, holds phone in a sturdy position, looks great in a modern vehicle, I'm sure i will be purchasing yet another when i get an upgrade on my phone, its a must have if you spend a lot of time in your vehicle....pay that bit extra as you wont be disappointed.
5 Reviews
|
发表评论
---
详细信息
The Brodit Passive holder is a secure in car holder for your Samsung Galaxy S5.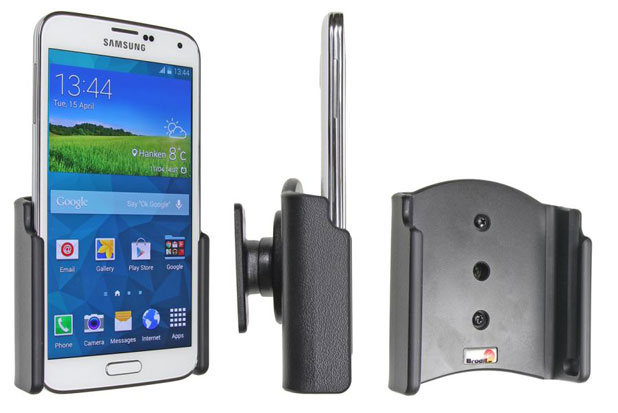 Lightly padded design

Its lightly padded design ensures that your Samsung Galaxy S5 doesn't get scratched when being used in the holder. The holder has an adjustable tilt/swivel base that allows you to adjust the angle of the phone to avoid light reflection. The open style of the holder leaves the charging port, headphone socket and speakers fully accessible. A portable handsfree or a charging cable can be connected to the Samsung Galaxy S5 when it is in the holder.
What else might you need?

The Brodit Passive holder is designed to be fixed to your dashboard, either using a Brodit ProClip, or by screwing into the dashboard directly. This holder can also be attached to a Universal Suction Mount.