Most useful customer reviews
Lorcan O'Neill
Dublin
Sony Xperia Z3
8 七月 2017
Slick
Would have liked to know if you could have charged the fan with the USB mains to make it more portable. But overall a very slick machine,right down to the storage box that it arrives in.
TimC
Manchester
Oroshi smart quiet USB desk fan
29 六月 2017
Great USB fan for the office
Really quiet. Touch control. Looks great and many jealous Office colleagues.
Mr Yuen Yin Tse
Eastbourne
Sony Xperia Z5 Premium
26 六月 2017
What a great little gadget!
What a great little gadget! I had it plugged into a usb wall outlet blowing all night during the heat wave, kept me nice and cool! Or plug it into a power pack and use it where-ever you want. It's whisper quiet on speed 1, but speed 2 is audible but not too bad.
12 Reviews
|
发表评论
---
详细信息
Stylish modern design
Modern minimalist design with fantastic intuitive touch functionality, the Oroshi Smart USB Fan looks fantastic on any desk or other environment and even better, due to its incredibly portable design you can take it with you from desk to desk, location to location.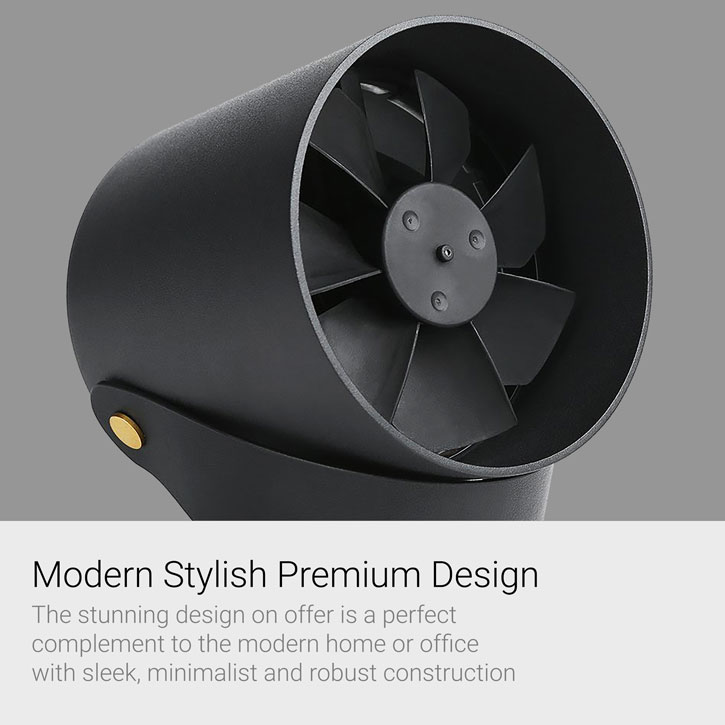 Two Contra-rotating blades provide a powerful stream of cool air
What you have here are two separate blades working on two separate motors. One is 5 bladed, the other is 7 bladed and they rotate in opposite directions. Why? To create a more powerful stream of cool air to bring faster and more pleasant cooling. You can even detach the fans easily for easy cleaning.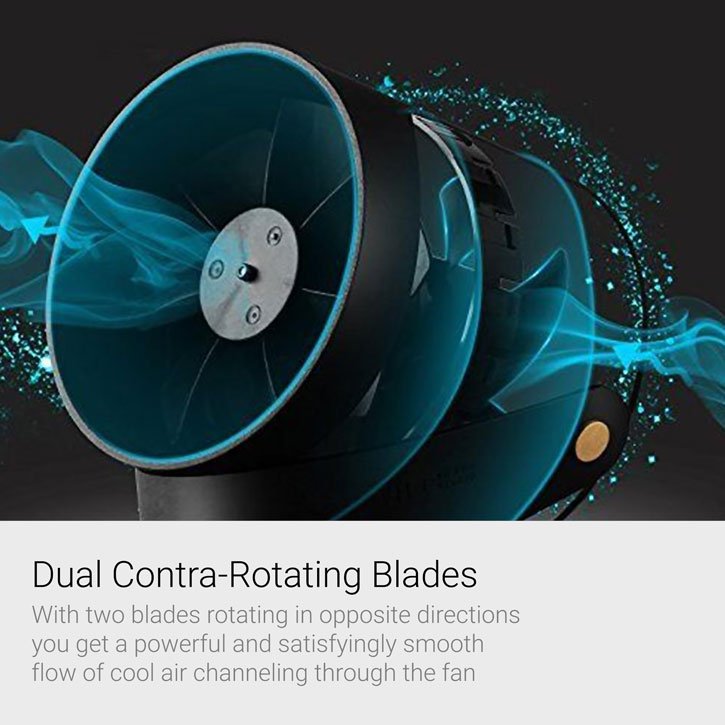 Two power modes with touch sensitive control
Most fans either have no control options or big clumsy buttons. The Oroshi features a touch sensitive casing that allows you to change operation - or stop or start it entirely - from a simple touch. Touch once to start in low power whisper quiet mode, touch again to enter high power mode and touch once more to turn the fan off entirely. Simple, elegant, effective.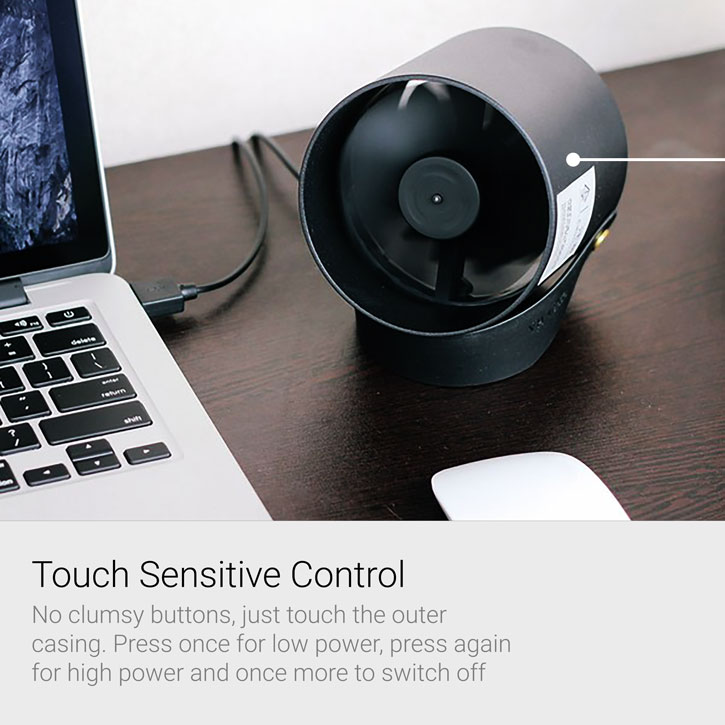 Ultra-quiet yet powerful
No one wants a noisy fan whirring away while you work, so the Oroshi is very quiet when turned on, so much so that you won't even notice it is there, other than the fact that it makes you feel cooler on those otherwise uncomfortable hot days. In whisper quiet mode, the fan is making less than 26dB which is very very quiet indeed. Even in high power mode, it's only barely 35dB. So keep cool in peace and quiet.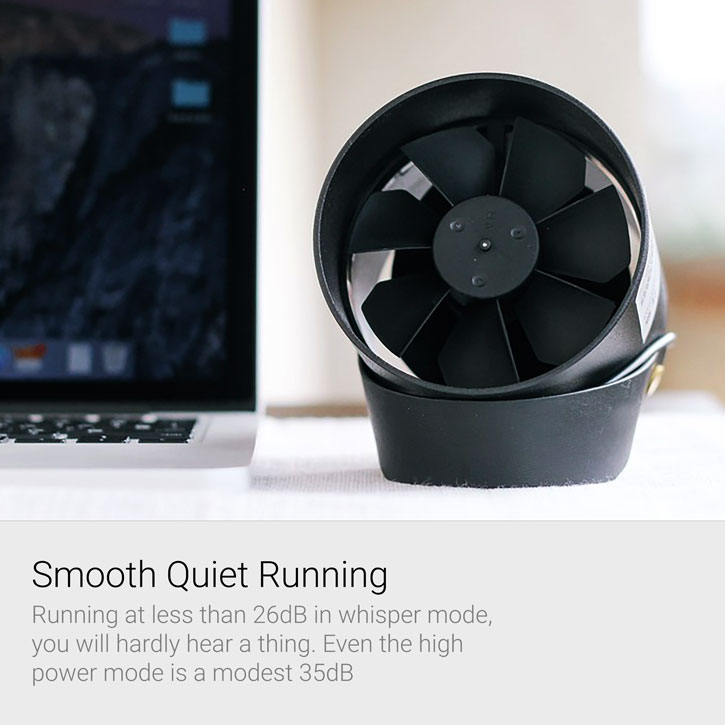 Economical USB powered design
Not enough electrical sockets near your desk? Relax, be cool… as the Oroshi is powered via USB, so you can simply plug it into your computer and enjoy instant cooling air. No installation software is required, just plug in and be cool.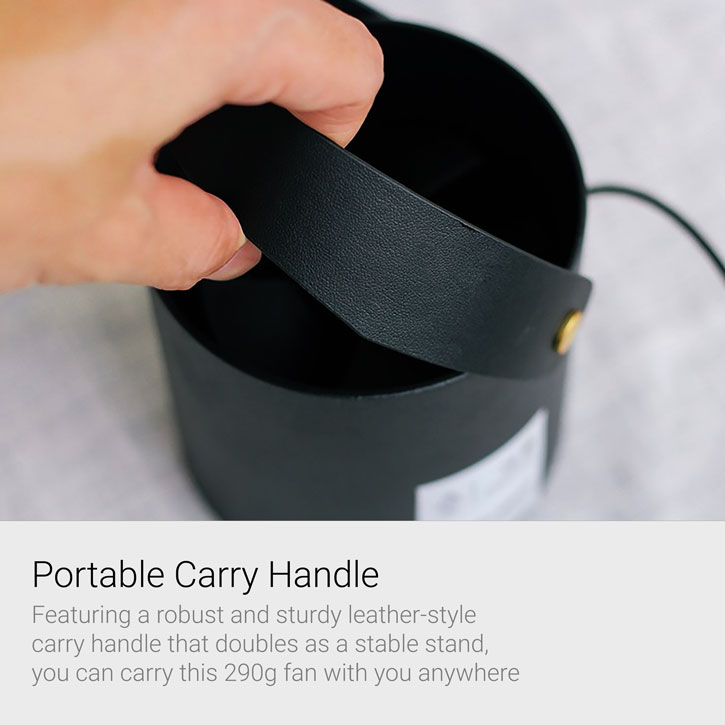 Portable carry handle
The Oroshi features a leather-styled carry handle that is hard-wearing and robust. Not only does this handle make the fan very portable and easy to move, it also provides a stable base to stand the fan on.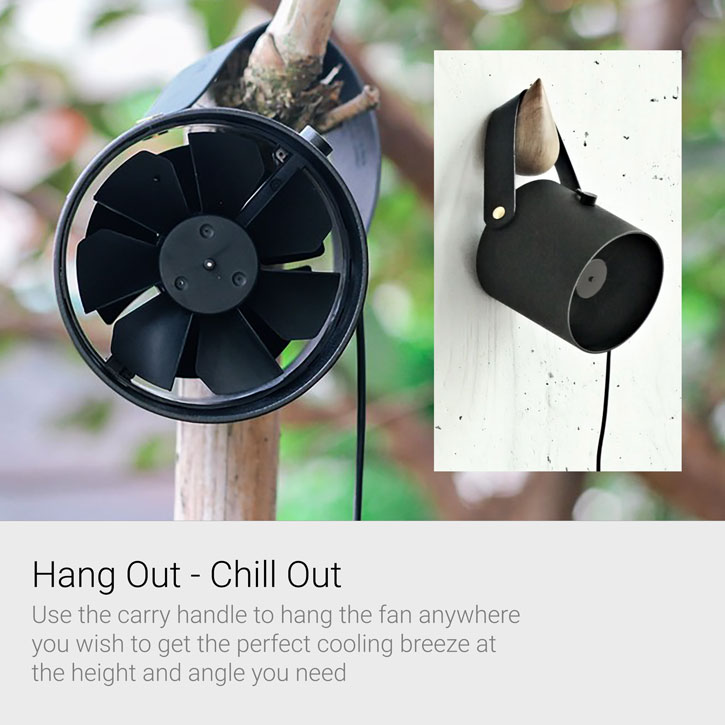 Hang out, chill out
Not only does the carry handle make carrying and standing easy, it also provides a means to hang your fan from a suitable vantage point. This could be somewhere on the patio on a hot day, or a peg above your TV or PC, or perhaps next to your bed on a hot humid night. Just make sure you have access to a USB charger nearby and you're good to go.
Technical Specifications