详细信息
Powerful 500 Lumens LED torch light in a portable pocket-sized package
Ideal for popping into a backpack, pouch, pocket, or bag, the ZumiLumi packs plenty of power despite being compact, lightweight and super-portable. This handy extendable torch has everything you need whether it lives in a tool box, glove compartment or a camping rucksack. No job is too tough and it might just be a lifesaver. ZumiLumi features a Cree LED chip that produces a powerfully bright 500 Lumens torch light. This light is just as ideal for finding your way through dark woods, illuminating hard-to-see objects or even for finding keys and other lost objects behind sofas or wherever else they may fall. With adjustable brightness and modes, it just might well be the only torch you'll ever need.
5 adjustable modes including emergency S.O.S survival mode
Most torches have 2 modes - on or off. Some let you control the brightness level - that's nice. Some let you adjust the angle and focus of the beam, which is pretty cool. Some even have fancy strobe lighting and S.0.S survival modes that could save your life. O.K that's pretty clever and impressive. Well, what about a torch that combines all of this and more? This torch features three levels of brightness - including high power, medium power and low power so you can have as much light as you need and control battery life to suit. There's a strobe light mode which is a good fun or more essentially alerting people to your presence. Finally, and this really could be a lifesaver, there's an S.O.S emergency mode which flashes the internationally recognised emergency signal constantly. Anybody travelling on water, mountains or any other potentially hazardous climate or location should serious consider this torch as the first thing in your bag or kit.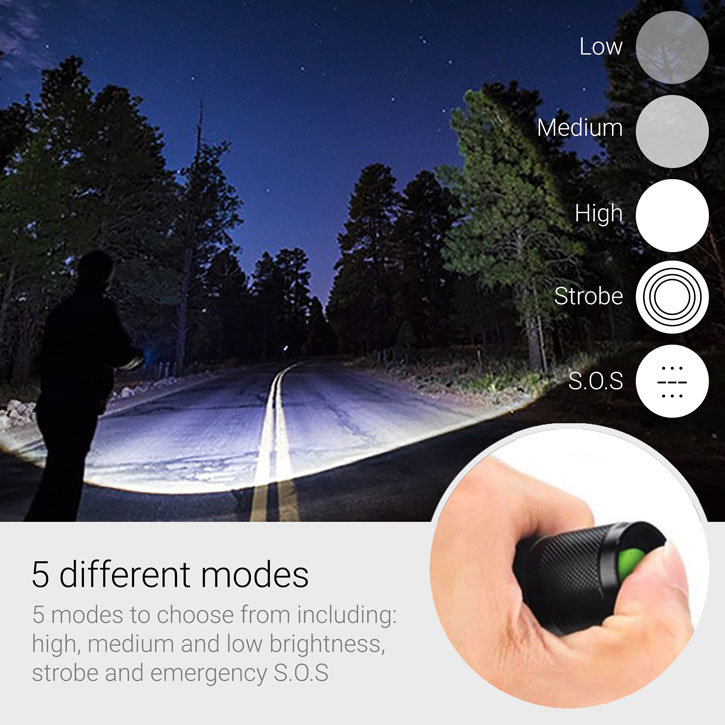 Zoomable / extendable design allows you to change the beam focus
The ingenious extendable zoom feature incorporated into the torch enables you to easily slide between x1 and x2000 beam focus giving you either a tight beam the exact shaped of the LED chip or a very wide angle area beam to suit your needs. You may only need to highlight a small area or light up the whole room - the choice is yours!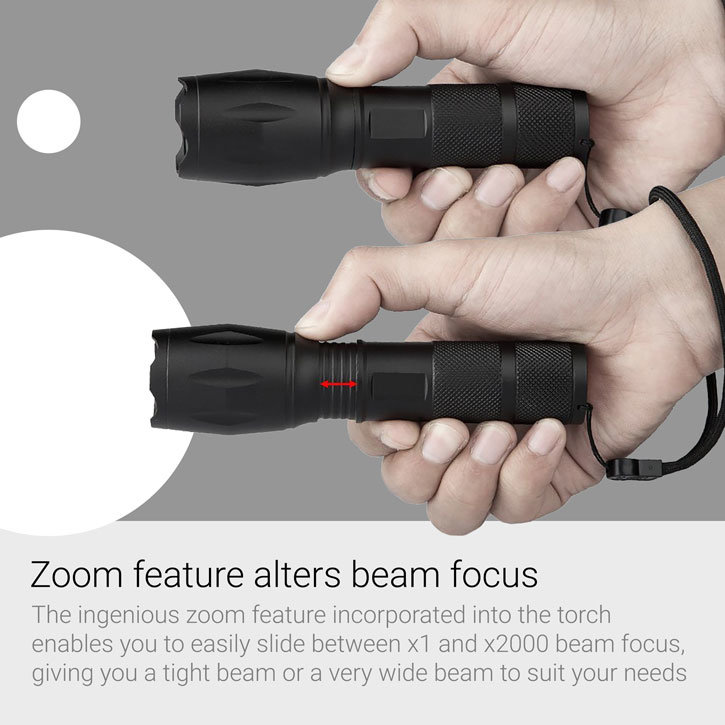 Versatile and safe - use with mounts and equipment
ZumiLumi doesn't have to be just a hand torch. By using mounts on bicycles, helmets, rifles and sports equipment, it can be used for so many other uses. There is no mount included but many available on the market will be suitable to use with this torch. Imagine the safety aspect of having a bike torch light that you can quickly and conveniently detach to use as a hand torch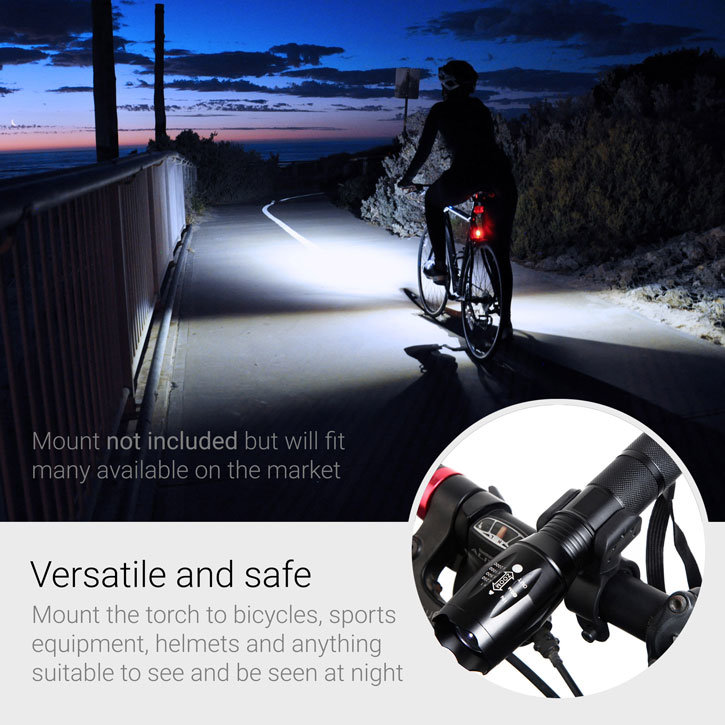 Ultra-tough aircraft-grade aluminium casing
Never fear, this torch is made from high quality, lightweight, aircraft-grade 6061T aluminium. This is so tough you could drive a car over it and expect it to work. There's a nice tactical black anodised finish too that resists scratches and scuffs and feels nice in the hand. It looks pretty cool too.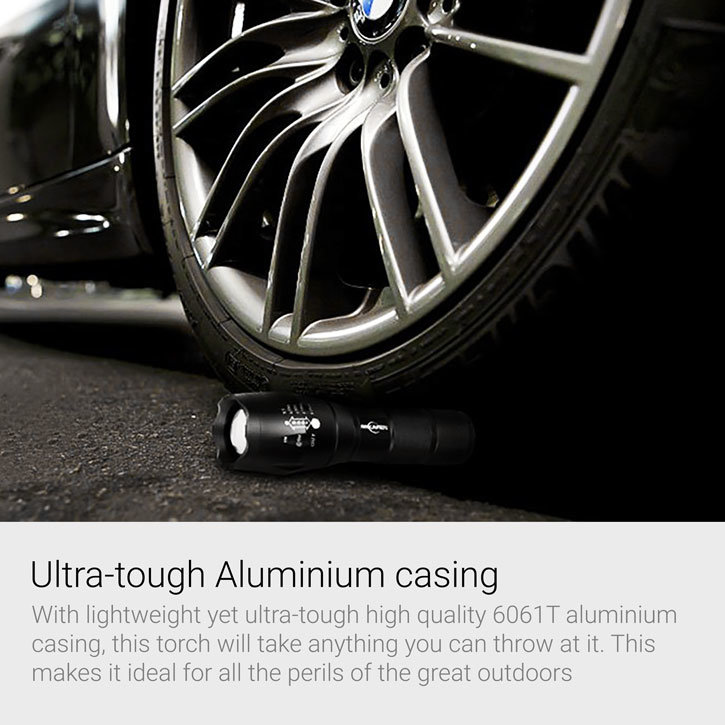 IPX6 waterproof and dust-resistant
As the torch is designed to take all kinds of punishment, it would be a shame if it suffered from the elements. With IPX6 rating, the ZumiLumi can resist dust and is also fully waterproof so its absolutely ideal for all weather and even naval use. Just keep hold of it.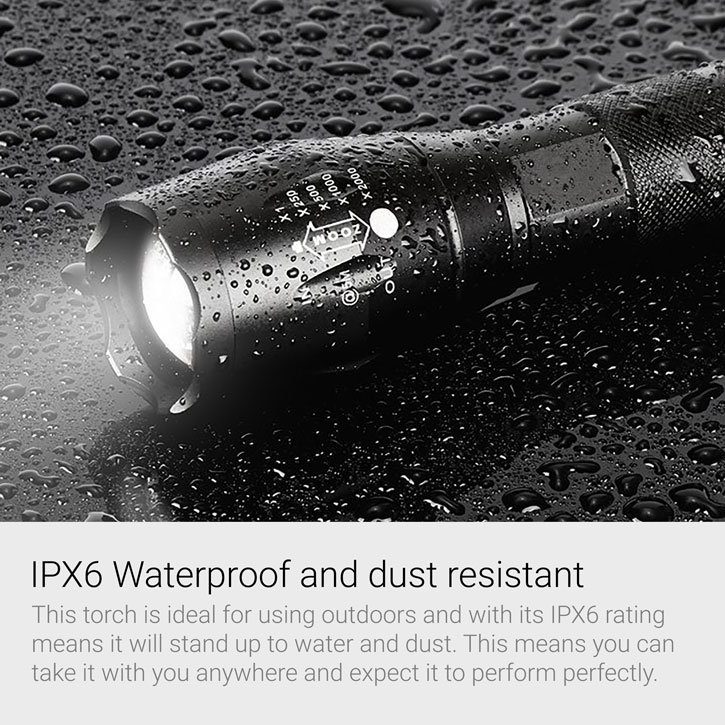 Included lanyard for safer and more convenient carrying
The ZumiLumi features a built-in lanyard that you can slip your hand through. This makes it less likely you will drop and possibly lose your torch.
Crenellations for emergency escape / self defence
The ZumiLumi features outer crenellations on the rim that add a further vital dimension or two. This makes breaking glass easier should you ever need to use it to escape a potentially life-threatening situation. The lens coating is made from very tough glass so will absorb the shock of using the torch this way. You can, in extreme situations, rely on this feature to provide extra self-defence. However, please refer to the law of your land in reference to this. Using the tactical torch's crenellated rim in this way can cause severe injury and should only be considered in extreme situations. Again, refer to the law of your land in relation to this, your rights and other related legal matters.
Choice of battery types
The ZumiLumi features a battery compartment to use 3x AAA batteries (with adapter fitting) or remove the adapter fitting to use 1x 18650 battery. Please note: batteries are not included.
Specifications
Length: 130 - 140mm (extended)
Diameter: 28 - 35mm
Weight: 151g
Brightness: 500 Lumens
Battery type: 3x AAA or 1x 18650 (neither included)